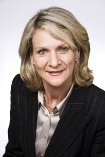 Media and Public Relations Consultant
Sydney, Australia
Nina Fudala is a media and public relations consultant in Sydney, Australia. She has vast experience in mainstream journalism, senior roles in media management, international relations, public diplomacy and media training.
At the University of Sydney, she has fostered and managed the United States Studies Centre -World Press Institute Media Fellowship to the U.S. since its inception in 2011.
Fudala was a journalist, producer and senior executive with Australian Broadcasting Corporation (ABC) News and Current Affairs from 1975-1997. She has also been a management consultant and trainer at the South African Broadcasting Corporation (SABC), and has worked for the Australian Department of Foreign Affairs and Trade (DFAT) in the field of international media relations, including the Sydney Olympic Games in 2000.
Nina holds a Bachelor of Arts degree majoring in political science and geography from the University of Tasmania and a Master of Science in Broadcast Journalism from Boston University. In 2010 Nina was awarded a media fellowship to the Hoover Institution at Stanford University.