These are news organizations I have admired from thousands of miles away. They have their own flaws but comparably these are the hall mark of journalism, because no institution is perfect. It's debatable though.
Dan Rather Reports
Here I was face to face with Dan Rather. Was I star struck? Yes, like my other colleagues only we kept our cool. This is the man who has done it all in TV.
Real Solid Journalism,was written on his mug.
"I am lucky' he kept repeating in his meeting with us. Indeed he is lucky but I believe his hard work paid off.
Dan has been in this profession way before I was born. He has Interviewed major world leaders in the twentieth century and reported from several countries including Ghana, twice. He covered our independence in 1957. I didnt know that.
"My most interesting interviews were that with mother Theresa, Martin Luther King,Nelson Mandela their humility alone"…
He recalled his early days on TV and refers to himself as a 'mobile anchor.'
News delivery has undoubtedly changed from the time he began with the inclusion of technology.He recognises that and the improvement in content as well but for him news is somehow being trivialized.
He talked about the lowering of standards in news reporting with too much focus on celebrities.
"The reason is you don't get into trouble writing on celebrities" said Dan Rather.
With his extensive coverage on the international front,in his view there is not much on international reporting and journalists are not doing much to expose corruption and malfeasance.
When Dan Rather left CBS,I thought he was going to retire I should have asked that question but I guess his advice for young journalists says it all.
"Do you burn with a hard heart of flame or do you think you can burn with a hard heart flame?" referring to the passion one must have to become and remain a journalist.
Honestly, it get to a point when you have to miss the family gatherings,christmas,weddings,funerals etc because you have to work and your family is like: Do you have to work today too?
He hosts Dan Rather Reports,a weekly show.
Propublica
"The mission of Propublica is to try to spot light on the abusive of power by any source of power obviously by government, health system, education, unions, media…' said Paul Steigner, Executive Chairman and Founder of Propublica.
Paul Steigner,formerly of the Wall Street Journal.
Receiving 14,000 resumes without advertising when they began operations tells you how serious they are about investigative journalism and how journalists yearn to work with them.
Investigative journalism is expensive and takes time so you have media houses not devoting resources to it. It pays off though and every journalist is being encouraged to do that.
Their stories do not always get quick reactions but they persist.

"That goes to another element of our mission to follow up, we persist. We don't just do as was the tradition with the investigative team in the news organization media reporting. They will do these big projects, six part series in newspaper or massive blast on the TV station and cable and then they will move on to the next project and the result was the story did not reach the audience so follow ups are major part of our work" said Paul Steigner.
They have a strong staff,referring to the young ones as bringing in some "digital DNA" to the keep up with the pace of journalism in the public interest.
The inclusion of videos on newspaper website site seems tobe widespread in the US.I first saw that at the star tribune, where they have a newscaster for this whole unit. It is much bigger at The New York Times.
They gave two reasons for that,one is the journalistic aspect and the second reason is because advertisers are demanding for it.
sept.5,2013 frontpage
The video on the alleged execution of some syrian soldiers by rebels was an exclusive video for The New York Times and it was on their website. I love this whole idea.
Wall Street Journal
Their rival the Wall Street, would rather be second in news than be inaccurate. These are errors every newsroom tries to avoid but risks it when the competition to break the news first is keen. F. James Pensiero did a good job telling us about WSJ coverage of breaking news and current headlines from the US and around the world after the acquisition.
Thomson Reuters
It was good to see the US branch of Reuters. I had the opportunity to study at the canary wharf office of Reuters in the UK (headquarters). I learned more about their operations there, all the same it was good to be at Reuters again, this time on 3 Times Square.
Gary Regenstreif, Editor-at-large expanded on their Trust principles: We shall at all times act with independence, integrity and freedom from bias.(set1941).
Facebook and Bloomberg
I can't say much about Facebook and Bloomberg, because am not supposed to. I don't think they gave much away but I have to respect that wish to be off the record. But I have to write something,bear in mind I remember everything and don't even think I will forget it.
At Facebook I learned more on how I can use Facebook professionally and at Bloomberg, I got to use the curved elevator which we were told is the second in the world.
UN
With all that going on in syria who would not want to be present a UN media briefing.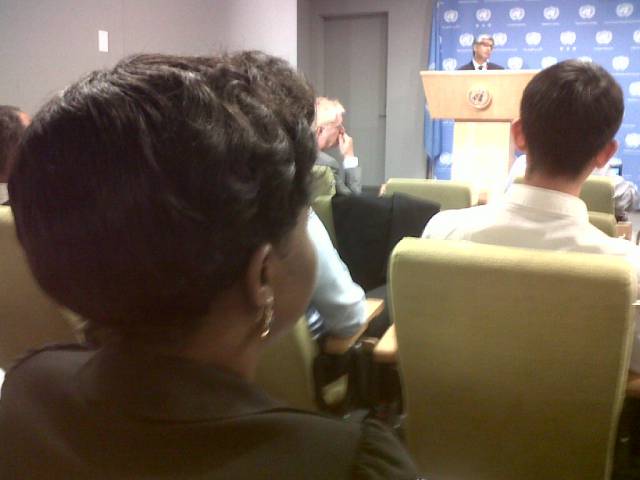 Visiting the news gurus in all these institutions was worthwhile.