The quaint little town of Ely north of Minnesota past the grey waters of Lake Superior, comes as a neat surprise all wrapped in lush green on a rainy evening late August. Our six-hour long first road trip in the United States with pit-stops at Highway 61 and Dylan playing in the car's stereo, the much-debated lunch at Subway, at Finland (just a moniker for a town that has actually little to do with 'Finland'), or even climbing rocks and contemplating a twenty-dollar bet to swim in icy water all add to the curiosity that is Ely. The cold rush that greets us at this picturesque little spot on the Vermilion Iron Range, also a gateway to the Boundary Waters Canoe Area Wilderness, is soon replaced by the warmth of the fireplace and the hospitality of our hosts at their beautiful cavernous house in the midst of a forest of pine trees. Before we enter the sprawling area, there's a board that reads "Just Another Perfect Day in Paradise". Indeed it is.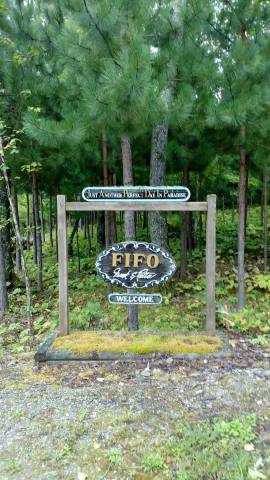 Ely is a pure experience. We have a sumptuous meal of cream chicken, garden-fresh salad and strawberry shortcake laid out for us in the unspoiled wilderness setting, with loons (aquatic birds found in many parts of North America and Northern Eurasia) rending the night air. The great northern loon is in fact, the provincial bird of Ontario and is depicted on the Canadian one-dollar coin, which has come to be known affectionately as "loonie". Ely is one tip of the United States, go a few miles north and you could easily be trespassing in Canada.
Our Forest Home
Our hosts Retta and Frank built their eccentric, arty all-wood house in this cool town many years ago, ploughing knee-high snow. They've been host parents to many journalists, boys, girls, couples and travel enthusiasts from different parts of the world, winter through summer. One could just sit out in their patio drinking black coffee in the morning watching humming birds huddle around feeders, or hear stories about black bears, wolves, deer or the occasional sighting of a moose. The house, of course, is a den of surprises. There's an ancient radio set, patch-work fabric over bannisters (Retta has been sewing for years), old-fashioned jewellery, wildlife memorabilia and yes, a sauna, the most coveted spot tucked away in the basement. On a warm day, one could skinny-dip in the lake and then head straight to the sauna. I did consider it for a few minutes, to be honest! Retta tells us: "We had a couple of Russian guests who would swim in the lake and then soothe their nerves in the sauna." On second thoughts, this kind of weather isn't for tropical junkies like me. On a good summer day, though, there's sunshine, blue skies, light breeze.
How Important is Ely on the World Map?
A town of little over 3,000 people, few motels and vast stretches of wilderness and quiet serves as an ideal getaway for writers, or for anyone who adores country life. Ely is historically rich, naturally pure and home to many iron-ore mines. The art scene is quite vibrant with many exhibits and shows like the Blueberry Arts, Harvest Moon and Winter festivals. Good we didn't miss some stunning photographs of snow-sculpted installations from those fests that Retta and Frank showed us so generously. We also visited the International Wolf Centre that advances the survival of wolf populations by teaching about these curious animals and their relationship to wildlands. With more time in hand, we could have gone hiking, fishing or birding in the land of lakes. But we did try canoeing at Camp Widjiwagan on Burntside Lake, learning the ropes of backpacking, trails to Alaska, surviving on dried food for days and lifting a canoe without spraining one's back! The downtown area is lined with outdoor clothing and canoe stores, outfitters and restaurants. We really should have checked out the Steger Mukluks and Moccasins, apparently the warmest hunting and ice-fishing boots in the world. In other news, Ely made a tongue-in-cheek international bid for hosting the 2016 Olympics, with a man allegedly already employed with a bucket to drain Miner's Lake to the south of town, in order to provide stadium seating in time for the Olympics. There's also talk of an Ely Marathon in September!
The Ely People
Ely is served by a community-oriented paper called the Ely Echo, which quite thoughtfully gave us world journalists, a spot in the sun by highlighting our names in their paper. We were to be part of a panel discussion that would focus on media ethics, social media and journalism practices worldwide. The convention centre was buzzing with seniors from different parts of the town on a cold and windy Monday morning. Here, we learnt so much about the people of Ely. Back in India, such events would draw more young people than old, but in Ely, the older generation seems to be so curious about world affairs. In fact, one of the women I met, asked me: "Are you bothered that there are only old people here?" I said: "Not bothered, but surprised". Incidentally, youngsters are in school, at work, or out canoeing. Definitely on Mondays. The Ely people are extremely conscious of the environment, are ardent believers in wildlife protection, volunteering work and oh so curious about what the world thinks about American politics. I met an interesting woman in her 80s who grew up in undivided India, and still reminisces about the beauty of Kashmir. She's in touch with many of her Indian friends. I also met an intrepid middle-aged woman, a cancer survivor, who has been on a raw meat and vegetable diet for years. She told me: "It's all about belief. I followed this path because I believed in it, and I've survived." The social interactions were uninhibited and the discussions opened up a whole new world so far, yet so close to India.
Ely in a way will always remain special, perhaps even a second home. Retta says most enthusiastically: "You've got to come back here for more, much more. This is your home, or maybe just another perfect day in paradise."