We are back in Minneapolis! For the next story, I want to take you to a very interesting place, which is not usually included in booklets like "10 top sights in the Twin Cities" . But the place is worth visiting, I promise!
Meet Ilhan
It's the summer of 2018. And Ilhan Omar is celebrating her second historical victory. Once – herself an eight-year-old Somali girl surviving in a refugee camp, now she is on her way to becoming the second Muslim woman and the first refugee ever elected to Congress. Born in Mogadishu, Ilhan fled the country's civil war at the age of 8 and spent the next 4 years in a camp in Kenya.
Mogadishu in 1991, this photo can be seen in Minnesota History Center
Since the age of 12, she has been living with her family in the United States. And here she is now – celebrating her nomination to run for U.S. Representative for Minnesota's 5th congressional district, after winning the
state's primary on August 14. "In my last race, I talked about what my win would have meant for that eight-year-old girl in that
refugee camp". "Today I still think about her", she says to her supporters who are celebrating her victory, "and I think about the hope and optimism that all that eight-year-olds around the country get from seeing your beautiful faces elect and believe in someone like me."
In 10 years many of those eight-year-old will be the ones voting and deciding the future of this country. They are growing up in a historical decade that is more controversial than ever – for instance – Ilhan Omar became the first Somali-American Muslim woman legislator in American history in the same year that the United States decided – Donald Trump would be its next president. So who will these  voters-to-be trust more? "They are just looking at the mainstream parties like different restaurants with a different menu", says David Schultz, professor of political science in Hamline University. He is referring to the millennials.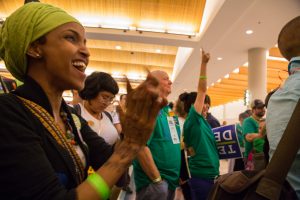 Born between 1983 and 1996, they are considered to be the ones deciding who will win and who will run this country. In the next 10 years, the traditional right-wing and left-wing supporters are aging and dying out of the voting population, giving the number's edge to millennials."In the next 10 years we are expecting a dramatic turmoil", says Schultz. The millennials are more likely to go for fresh candidates, who don't belong to the current status quo. Just like Ilhan Omar.
Back to Riverside – we meet Mursal Jama, who has something in common with Ilhan. Ilhan. He also was born in Somalia, and came to Minneapolis – in search of better future. He is really happy for
Ilhan's political success:
I told you – this place was worth visiting! So is the next one –
Tip of the day:
If you find some time in your intense schedule, it's a very good idea to visit The Somali Museum of Minnesota – is was opened in 2013 as North America first and only
museum devoted to Somali culture. I had the pleasure to take a closer look at Somali history and culture through a special exhibition in Minnesota History Center. Take a look at it!