In Washington, D.C., there is a place where you can see the Capitol on your right and the words of the First Amendment on your left. And this is exactly where I am taking you this time.
As an Eastern European, there is no way for me to start from anywhere else – this part of the Berlin Wall has traveled thousands of miles to reach this museum hall.
It's amazing to learn the curious fact, that Gorbachev signed his final act as a Soviet president with a pen, which actually belonged to an American – you can't really blame history of not having sense of humor)– CNN president Tom Johnson, who was overseeing CNN's coverage, lent him the pen after Gorbachev's own malfunctioned.
Back to the newsrooom – sending news through space is possible! It's 1984 – the first satellite truck is invented. The grandfather of the modern satellite cars is now retired in the Newseum. It's called CONUS and its birth place was actually the Twin Cities. When you are there, you probably will meet with the Hubbard family – who established and have run KTSP-TV for the last couple of decades. Hubbard Broadcasting and CONUS Communications developed the truck in 1984. The first breaking news covered by CONUS 1 was the aftermath of a tornado in Wisconsin in June 1984.
Just like journalists, this museum covers all kinds of news – including times in which journalists failed to do their job – such as what happened two days after the deadly terrorist attack during the 2013 Boston Marathon.
As runners crossed the finish line, two bombs inside backpacks exploded. Three people were killed, 264 were injured.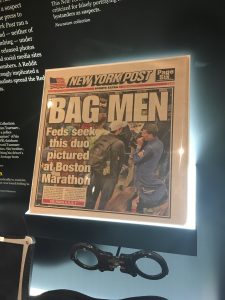 Two days later, CNN, The Associated Press and Fox News incorrectly reported that a suspect was in custody, prompting the FBI to urge the press to exercise caution. The next day, The New York Post ran a front-page photo of a teenager and his friend under the headline "Bag Men". Neither of them turned out to be involved in the bombing.
Rolling Stone magazine went even further, when it chose to put a photo of suspect Dzhokhar Tsarnaev on its cover. The decision was widely criticized for glamorizing a terrorist.
The real fake news
The next story is like a movie plot – it's 2004, for 12 years, USA Today reporter Jack Kelley wrote timely scoops from all over the world. Many appeared on Page One, including an eye witness account of a suicide bombing in Jerusalem that made him a Pulitzer finalist. An anonymous tipster accused Kelley of fabricating stories. An inquiry confirmed the accusation. Kelley and two top editors resigned.
Talking about fake news, there is no way not to mention President Donald Trump, who also has a special place in the Newseum.
The attacks on media started when Trump was still a presidential candidate and was forced to face the resolve of news organizations to continue reporting fairly and accurately. Trump called negative stories "fake news" and said the press was "the enemy of American people". I can tell you – this is not my favorite place in the museum. But the next one is!
"If it makes you laugh, if it makes you cry, if it rips your heart – that's a good picture." These are the last almost 80 years in 1,000 pictures!
This gallery features the most comprehensive collection of Pulitzer Prize-winning photographs ever assembled, including photographs from every Pulitzer Prize-winning entry since 1942, when the award was first presented. The gallery is updated each year when new winners are announced in April.
There are not too many places where journalists can be really speechless. But this is one of them.
In the Newseum they have another one – this glass memorial bears the names of 2,323 reporters, editors, photographers and broadcasters who lost their lives reporting the news. This gallery is also updated every single year. Sadly.
Tip of the day: 
When you go out of the Newseum, I highly recommend you visit the National Gallery – it's right across the street – the best place in DC to enjoy some amazing masterpieces!
Also, don't miss the African-American museum – sometimes, you have to make a reservation first, so I highly recommend you call a few weeks earlier. Both the Gallery and African-American museum are free, as well as all the other Smithsonian museums in DC! Enjoy!