Friday evening, an art gallery, a lot of people, Sauvignon Blanc, handsome man and real artist is host a party, painting and graphics around, smart casual, noisy, very noisy, guests are coming and going, mixing and moving around. Close-up: a director grabs a main character… I took a couple of steps back once again to accurately record my feelings: I was in a scene from the American TV series. This is the typical scene "Friday night reception". And apparently all the guests came from Aaron Sorkin. I think – what comes first? American TV movies directors are able to accurately reproduce documentary reality or the reality can make a copy of TV-series scenes? I'm doing a couple of shots by my iPhone, and waiting for someone will say loudly "stop" or «cut», the lights will go out and the workers will start to dismantle the scene. For Americans it's hard to understand…
On last Friday at the end of our first week in the WPI the artist Leon Hushcha received us. Leon is originally from Ukraine, he has never been there, but both of his parents were. He was born in Austria, where they had moved from Ukraine. Leon speaks very authentic Ukrainian language without Russian influence.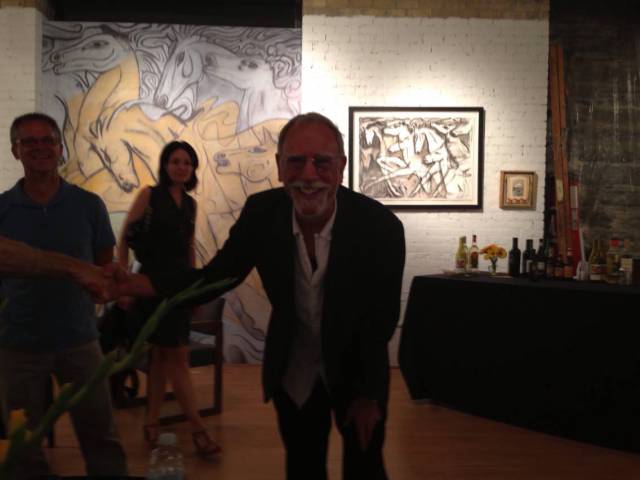 Ukraine – a former Soviet republic, which is a couple of years ago, celebrated the 20th anniversary of its independence. I'm in Minneapolis, at the other end of the earth; in front of me is the American artist saying that one of Taras Shevchenko, the great Ukrainian poet, is not enough to save the language. Not every Russian knows about Taras Shevchenko, in the Soviet Union era we studied the literature of the republics, but not anymore. – Have you ever been in Ukraine? I think ones I have to go there…
– I was working in the Ukraine from 2005 to 2008 for one of the biggest TV channel. I brought there from Moscow a political talk show that I had been doing in Russia during 4 years. A short period of freedom of speech in Ukraine was an aftermath of the Orange Revolution's (2004)
– What is it – a short period of freedom of speech? Is it possible? Freedom of speech cannot pick up and disappear?
– Can! The President wanted to be a nice guy, gave freedom to the media, but just a little for his people
– It's a great think to give freedom to the media. It's a lot!
– Yes, but he miserably lost the next election – I'm sure one day I will go to Ukraine, Poltava, to where my parents are from. Lets take some wine.
Many new people have just come in, crowd. I'm going to take a glass of wine… Cannot end up a table with wine because of Tom Hanson, the MU professor and my host family is coming in
– Vera, how are you? Call fast 3 things that impressed you the most on this week
– First, Kris Bunton, dean of the College of Arts and Sciences, presented us many pictures with pizzas an burgers which was an explanation concept of profound meaning of the First Amendment and how The First Amendment works, she showed us how to explain very serious issues by very simple words, I sent one of her picture to my kids
– Second
– Secondly, professor Mark Anfinson, he was telling about enforcement of the First Amendment, I would have talked to him many, many hours, it was brilliant
– Third
– We visited Cargill, and Dave MacLennan, President and COO, mentioned how many people around the world go to bed hungry and suffer every day, it impressed me, because exactly this guy does his profit by selling food every day around the world.
I'm still on my way to take a glass of wine extending my hand; Leon caught and introduced me to a slim man with round glasses
– Hi, I'm Rob Silberman, how are you?
– I'm Vera Krichevskaya from Russia from Moscow…
– What was your last story about?
– One of the latest was about the Russian gay athletes, who will be performed at the Olympic games in Sochi, they have a reason to hide their homosexuality, I was able to convince them to talk anonymously
– And how are they?
– Not easy going … as well as your American very famous figure skitter Jonnie Weir – Voronov who is going to Sochi, I made an interview with him too, a year ago in NYC he got married to Russian – Ukrainian guy Voronov.
– Today I heard a speech of Russian gymnasts; she said to be a gay – not a Russian tradition
– She well be a mayor of Sochi
– Oh…
I feel thirsty and parched throat when I talked so much? I do not remember? And guests are still coming in to say us hello. My glance caught my fellows Paul and Ami, who are sitting comfortably on the sofa, and there is no place for me…
Really well groomed and tanned man is joining us
– Hi, I'm …
– Hi I'm Vera from Russia, television producer, co-founder of the only remaining independent cable TV…
– What does it mean to be an independent media in Russia?
– It means investors have to invest every month, because of just a few really brave advertisers are ready to place their ADs, cowards, and it does not matter if the media is going well or not, it doesn't matter how big is your audience and who is your audience
– Is there advertising or not?
– Differently, some Media is more lucky, some less, for example the political weekly magazine "The New Times" I partly work for even doesn't have commercial department last two years, it's happiness if there are some people who donate to the independent media
– Is it dangerous to write and say what you think?
– It is risk to lose a job, but it's already happened to me, the rest is not so terrible, as long as
I'm going to take a glass of water; I cannot speak anymore…
– By the way, how much is your Olympics? Hi, I'm….
– Hi, I'm Vera, about 50 billion dollars…
I turned to take a glass of water and was stopped by stylish girl from Thailand. We are "ping ponging":
– I'm from Thailand
– I love Tom-Yum and green papaya salad
Diane, WPI's fellow from Colombia who is a reporter of El Espectador, grabbed Ami's camera, Ami, a co-founder «+972MAG» from Israel, is embraced by guests on the sofa and busy. Diane is making pictures. Someone is making pictures of us and Diane. Everyone is making pictures.
A thin gray-haired man reached us:
– How are you, you have to go to Iowa to find out- what is the real America, Iowa – the most representative state, very important on primaries
– I thought you will have a rest after last November, but it looks like your new campaign has already started
– We always in battle, you should go to Iowa
I'm turning my head to left, the nice guy who asked about independent media is right there – Sorry for interrupting you I wanted to say goodbye and good luck
– May I show you a picture from my Facebook wall that appeared couple of hour's ego?
– This is your American athlete at the World Athletics Championship in Moscow; she put the sign "GAY" on her form, its real riot…
– WOW, is she American?
– Can I have a look? WOW
Both are leaving, I can neither speak nor stand, where is water? Forget about wine!
– I was going to ask you what do you think about Snowden?
– I think when security in an airport asks me to remove my shoes; this is not a violation of my personal space or privacy, but a question of my safety, removing me shoes in an airport I accept rules of new era, the same with Snowden, I don't care who record my phone calls, I care about my safety.
– Well, what do you think about Snowden?
– I do not understand his motivation, I remember Daniel Ellsberg, he had very patriotic and transparent motivation, but not Snowden, moreover Ellsberg was inside the country, Snowden run away, and revealed his info from abroad.
– Well, what do you think, where does it lead?
– Asylum is a pure provocation, and it will may lead us to the new Cold War, and Vladimir Putin understood that well, anti-American discourse is always very popular and wanted in Russia, and Barack Obama, in my view, answered to provocation very soft.
David MacDonald is introducing his daughter; I'm curious and cannot miss…
-Vera, this is my daughter, she is working on PBS in Minneapolis
– Oh, when I was buying films for Russian documentary Channel 24 DOC I often compare our collection of documentaries with what PBS shows in prime time.
The man, who spoke about Iowa is going on:
– I love Dostoevsky, especially "Crime and Punishment "
– But my favorite book is Karamazov
– Oh! Brothers? Yes, Brothers Karamazov, I love satire in "The Possessed" . But this morning, when I was leaving the house I came across a book of another Russian writer from the 70th … Aksenov, right?"
– Yes, Vasily Aksenov
– I opened it and started reading. I love it …
I feel like losing control, dizziness, for two hours so I do not close my mouth, I cannot speak neither English nor Russian, another man is joining us
– This country is very divided; if you go to the south you will see a different country. Did you read GOP promises to boycott the debate in 2016, if CNN or NBC will put on air documentary or mini-series about Hillary? There is always fight in this country
I wonder whether there was more Sauvignon Blanc?
– I'm sorry, I just wanted to say goodbye, where have you been in America?
– In New York, Boston, San Francisco…
– And did you go to baseball game?
– No
– Well, you have never been in America…