(tAll smiles. The 2013 WPI fellows, center panel, on the electronic photo wall of the Bill and Melinda Gates Foundation in Seattle)
We arrived in St. Paul in summer; now it is fall, the journey is over.
I arrived with a suitcase full of things I felt I will need for 9 weeks of this World Press Institute fellowship program. Part of me excited; part of me apprehensive. Will I fit in? (I know, it's sounds so high school.) Am I capable enough to do this? Do I have enough experiences to share as a journalist? Will I be homesick? Will it be hard to go back home…
With the program completed, I am leaving with more than just a suitcase full of things. I am leaving with a bagful of memories.
(Various memories of our long journey: Fresh off the train from New York to Washington D.C.)
(Air travel woes. Worrying about excess baggage)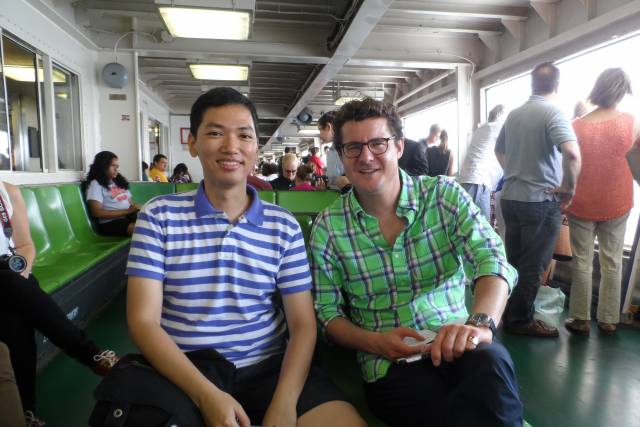 (On the Staten Island Ferry for a view of the Statue of Liberty)
The day we got back to St. Paul after our long tour, it amused me how much can change in just a couple of months. The leaves are starting to fall, leaving some trees gray and bare. Others just starting to begin to turn different shades of yellow, gold and orange. The air is nippy.
(Autumn colors in St. Paul)
But I know it's not just the trees which are starting to change along with the season. I am, too.
I arrived as an individual… I am leaving with 9 new friends, and many others whom I've met along the way; I am taking with me many learnings.
Pack 10 strong-headed, opinionated, alpha-type personalities all together for 9 weeks. There's a word to describe it: stressful. But it is also incredibly enriching! At first, you see so many cultural differences. Name it: food, room organizing skills, spirituality, journalism principles, outlook and view of the world.
After 9 weeks, you realize, the commonalities outweigh our differences.
I will cherish the moments we shared traveling and exploring. In between or after sessions, we would all dash off, sometimes in big or small groups, sometimes on solo flight, to see as much as we can from every city: the monuments and parks (thank goodness, there was no government shutdown yet at that time), the vibrant downtowns, the beach or waterfront, the towering man-made structures, museums of art and history, the shops. Retail therapy and good bargains bring people together.
(Classic Americana: fried foods, rides, amusement and attractions at the Minnesota State Fair)
(Taking a walk along Lake Michigan in Chicago)
I will cherish the meals we shared, whether from food carts or fancy restaurants. But I will cherish the most the meals prepared by my fellows in their apartments (even the dishes with the most bizarre ingredients). When they allowed me into their kitchens, they also allowed me into their hearts, and they into mine.
(Colombian inspired dinner in Miami prepared by Diana)
(Master chef. Fine Sunday brunch prepared by Carson)
(Jolof rice, traditional dish from Ghana, by Narkwor)
I will cherish the intimate conversations we've had about our families, our lives, our struggles, even our secrets; our fears and hopes for the future. In each other, we found solace and strength.
I cherish the moments I spent with fellows in Sunday Church service, even those who were of different faith. Those moments were a balm to the soul, providing a sense of community during times when I felt lost and weary.
(Fellowship and community. Chapel of St. Thomas Aquinas at UST)
I will cherish the sessions we spent in big media organizations and institutions. I saw hugely different perspectives on the same issue which challenged my beliefs and principles. Sometimes we agreed, sometimes we agreed to disagree, sometimes, we argued or fought even among us fellows. But always, we'd make up by the end of the day (or next day, at the latest).
I will cherish the personalities we've met: journalists, editors, producers, experts, teachers, government officials. Some shared new and exciting ideas, some things I already knew. You realize that journalists, wherever they come from, have the same challenges, frustrations and thrills. The media landscape is changing, and those who are most resourceful and innovative are the ones who thrive.
(Learning about Internet paywalls and multi-platform journalism at The New York Times)
(Touring CNN's World Headquarters in Atlanta and discussing broadcast quality control with senior producers)
I will cherish the WPI team, our executive director, program director, travel staff, host families and assistants. What they do is hard work, but they do it with so much love.
(Favorite WPI executive director. David Mcdonald, in black shirt, giving a briefing to WPI fellows before a road trip)
There's one quote that I came across in a museum in Ely from an unknown author. It gave me inspiration right from the start of our trip: "When you come to the edge of all that you know, you must believe in one of two things: There will be earth upon which to stand, or you will be given wings."
(Taking flight. Memories of a wonderful journey in the U.S. Photo by Diana Duran)
I came to the U.S. in summer wanting to learn so much about the outside world; but not surprisingly, this journey also pushed me to look inward more deeply. I am leaving this autumn season with a heart, mind and soul filled to overflowing.
#