Austin presented itself as a city of freebies for the first 24hours. First Ami got a brand new suitcase at the airport when we arrived.
The wheel under his suitcase got damaged. (Ami you should post a picture of the new suitcase plss)
The next morning, again Ami and Paul got free Tia chi lessons.
A gentle way to fight stress.
From the accounts of people, Austin was 'beautiful' when did it become weird? Nobody mention that to me.
How was I supposed to do this? I asked myself when I first saw this inscription on almost every souvenir.
Seriously, I needed to find out what made it weird, then I would think of whether to keep it weird or not.
What makes Austin weird? Good question (am hearing a lot of that these days). These are my top three.
1. ATM's in every corner.
It was a like directive to mount quick cash machines in any available space. For the shops it was a 'must have', an easy way to drain your pocket I guess. This was banking at your bar, grill and dough nut joint. It has moved from your door step to your pocket.
2. Dog pool
I love dogs but to have a pool designated only for 'dogs' mmmmmh no comments. I saw that at a recreation park near the lady bird lake. Dogs day out I will call it or 'pool party' dogs only.
3. 6th street
I didn't get to see much of Austin but staying close to the Capitol and 5 blocks from 6th street, might be all I needed to see I guess.
The street is where all the action is. Each bar has a live band with very loud music. If the picture could tell how noisy it was, you will be blocking your ears by now.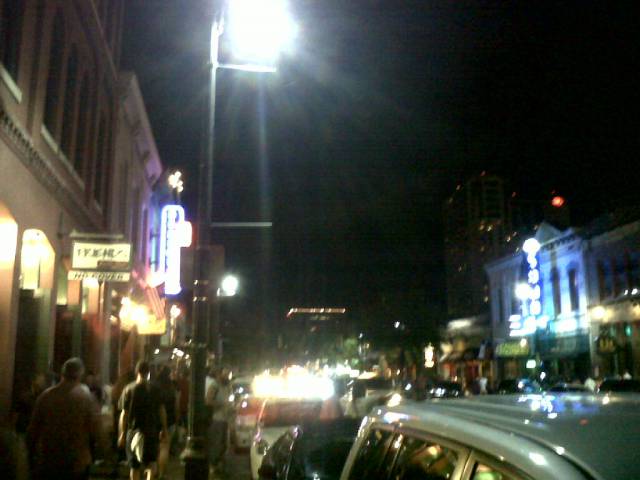 pictures taken with phone.
Some bands were fantastic, others will need to go for some refresher course to polish it up.
I love the stretch though, full of life. What I found weird was the fact that, at times I found myself walking alone on the street for like 5 blocks to get to 6th street.It is scary when you hear your own footsteps.
How did these people get there?
I added 6th street to the list because, during the day, the street is what I would call 'dry'.
One afternoon, Paul and I walked the stretch and found anything to eat because the shops were closed even food carts were not opened for business.
Once you are on the 6th street expect anything.
I saw a topless woman walking down the street. That is gross to post. I didn't want a picture of that. She was friendly though and only men took pictures of her. She would cover her titties when asked to pose for a picture.
Scary toys, you can't buy these for kids.
I bet Shakir did not enter this gift shop.
There were two of these shoes hanging on the wires.
The Congress Avenue Bridge I gathered is a shelter for the largest urban bat colony in North America. Between 750,000 and 1.5 million bats fly out near dusk. I wander if that has an effect on the city. It sleeps during the day and operate at night.
I must say they had great barbecue. I had a delicious one at Stubbs. The queue at Franklins barbecue was too long. People start queuing at 8:30am for lunch. So at 12:30pm, there was a very slim chance of getting any food.
I would say Austin is unique in its own way.
NB:pictures taken with my phone, the quality is not too good